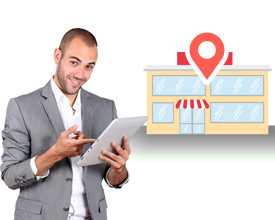 The 'Business Mobile Web Design' team has over 20 years experience in website design, seo and online marketing.
The owner, Chris Garvey; has lived in Durham for 6 years, and in the Triangle for over 32 years.
With an 'in the trenches' background in mobile website building 'for profit', and SEO for business; we know what it takes to boost the visibility of your website and business.
In today's hyper-competitive and saturated marketing environment, your business' online presence and digital marketing tactics are critical. This means you need a well optimized website, with a local online presence that includes social sites engagement, national and local citations, and an ongoing plan to maintain and grow your online properties.
Without an updated, search engine optimized, mobile ready website; as well as a diverse digital footprint; your business will just not be found in today's online marketplace.
What We Do:
Build fast loading, clean, dynamic websites designed to do one thing…get more leads for your business.
Establish or repair, and verify; your Google My Business™ listings and Maps SEO.
Offer superior hosting with 24/7 backup and security enhancements.*
Provide content updates, reputation management and SEO monitoring.**
What We Don't Do:
We don't lie and tell you we can make your website #1 overnight. No one can. If they say they can, they are either lying or employing what insiders call "black hat" tactics.
These WON'T last and WILL get your website in serious trouble.
We won't tell you that orders will come flooding in tomorrow. It takes time to build your online presence.
Though time and effort are required to see a lasting footprint, there ARE steps you can take right now to drastically improve your online exposure today.
'Business Mobile Web Design' will show you, in clear terms; what it will take to improve your digital marketing efforts in a sustainable and measurable way.
We will explain what all the 'jargon' means.
Like SEO, PPC, Backlinking, Citations, Rep Mgmt, Retargeting, etc.
We will even tell you the one tool small business MUST start using to really improve their marketing and customer acquisition efforts….and it has nothing to do with SEO or websites!
Digital marketing and the Internet algorithms change everyday. In order for any business to effectively use these tools, they must keep updated on these changes to stay in front of the shifting trends in online marketing.
We offer cost effective, comprehensive solutions to the business community's internet marketing endeavors and challenges.
Without the hype and over blown sales pitches you hear everyday, we will explain exactly what we do, and how it will benefit your bottom line.
Visit our Mobile Check page now to see if your website is mobile friendly or….
Call Chris Garvey at Business Mobile Web Design today, and find out how we can help your business too.
(919) 282-4306