If your a local business owner, you need to know about the 'new' Google Places for Business, now called Google My Business. More importantly, you must use this tool in order to be found in any local searches going forward.
Google has a few strict criteria which you have to follow in order to rank well and be found in local searches for your type of business.
Claim and verify your Google places listing.
Tie that into a Google+ account. (Google will automatically setup a starter page)
Update all your pertinent business details on every online profile or web page that your business is found.
Maybe your asking, why should you bother with all that just for Google? Because, as shown in the chart below, Google accounts for over 60% of all local searches online.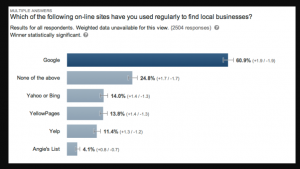 Source: http://blumenthals.com/blog/2014/02/17/which-sites-do-consumers-use-to-find-a-local-business-why-ypcom-is-facing-headwinds/
There's another thing you can gather from this chart. Yelp, who gets another 11% of those searches, is just a 'citation' site that lists what it finds on Google, or one of the aggregators.

Yahoo and Bing have essentially the same listings as Google, but usually in a little different order, and with some differing results. By and large, the top spots in Google can usually be found in both Yahoo and Bing in similar positions.
In order for your business to compete today you must get found online, or lose out to your more tech savvy competitors. As I referenced in this article here, search engines are used in 4 of 5 local searches. Even more amazing than that, 88% of local searches are done on smart phones.
If your business is not verified in Google My Business and your listing properly optimized across the web, your competition will eat you for lunch.
Go here now to find out more about Google My Business and the importance of a properly verified Maps listing.

Go here to learn more about the need for a mobile website presence in today's digital business landscape.
All trademarks belong to their respective owners